Starting and quitting mail
To start mail(C), type mail on the UNIX command line and press <Enter>. The opening screen shows the headers of the messages waiting in your system mailbox: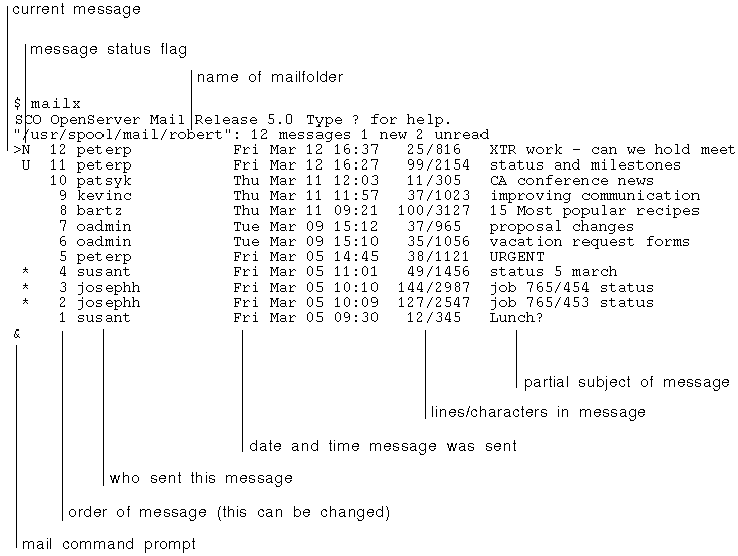 As new messages arrive, they are added to the message list. The greater-than sign (>) is a status flag that shows the current message. To change the order in which headers are displayed, see ``Changing the order of the header list''.
Here is a complete list of message status flags:
| Symbol | Description |
| --- | --- |
| > | current message |
| U | unread message |
| N | new message |
| M | message saved to user mailbox using mbox command |
| | message saved to a file using save or write commands |
| P | message preserved (using hold command) in your system mailbox instead of being saved automatically to your user mailbox |
If there are no messages in your system mailbox, mail exits immediately with a message. When your mailbox is empty, you can only run mail to create a new message or to read a different mail folder.
Getting help
To get help when you are reading your mail, type ? at the mail prompt. To get help while you are inputing a message, go to a new line and enter ~?.
Quitting mail
To quit mail and update your mailbox, type q at the mail prompt.
If you want to leave mail quickly without altering either your system or user mailbox, use the exit (x) command. This leaves mail without changing anything.
---
Next topic: Reading mail
Previous topic: Using e-mail

© 2003 Caldera International, Inc. All rights reserved.
SCO OpenServer Release 5.0.7 -- 11 February 2003