Starting the Color Picker
The Color Picker lets you change the color scheme of your painting. It contains:
an HSV (hue, saturation, value) color wheel and slider bar that lets you select from a wide variety of colors

a Grab Color button that lets you copy colors from anywhere on the Desktop

a color mapper that lets you map colors to black and white
Start the Color Picker by clicking on the Edit button in the Color Palette. Alternatively, you can double-click on a box in the Color Palette (the color you select from the Color Picker goes directly to this box).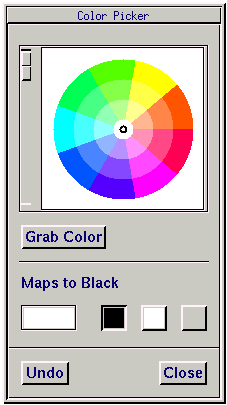 ---
© 2003 Caldera International, Inc. All rights reserved.
SCO OpenServer Release 5.0.7 -- 11 February 2003